About Oral Irrigator
Brushing your teeth helps keep the front, back and chewing surfaces clean. But how do you clean between teeth? That's right, by flossing. It helps remove food debris between teeth.
Today, there is a high-tech solution to flossing. An oral irrigator or water floss is the new alternative. It's a device with small nozzle that shoots water and air to your teeth and gums to remove plaque and food debris.
The National Library of Medicine shows that oral irrigators are good at removing plaque biofilm from teeth. Let's look at the pros and cons.
Oral Irrigator Pros
Helps clean between teeth especially is you have braces. It's almost impossible to floss between teeth when you have braces. An oral irrigator helps clean between teeth and brackets of the braces with a jet stream of water.
Gingivitis is a mild gum disease caused by plaque. They become red, shiny, swollen and bleed easily. Oral irrigators work underneath the gum line and provide a complete clean all around the tooth.
Cons of Oral Irrigator
The downside to oral irrigator is the price. The units can cost MYR300 and above, which might be a significant outlay for some people.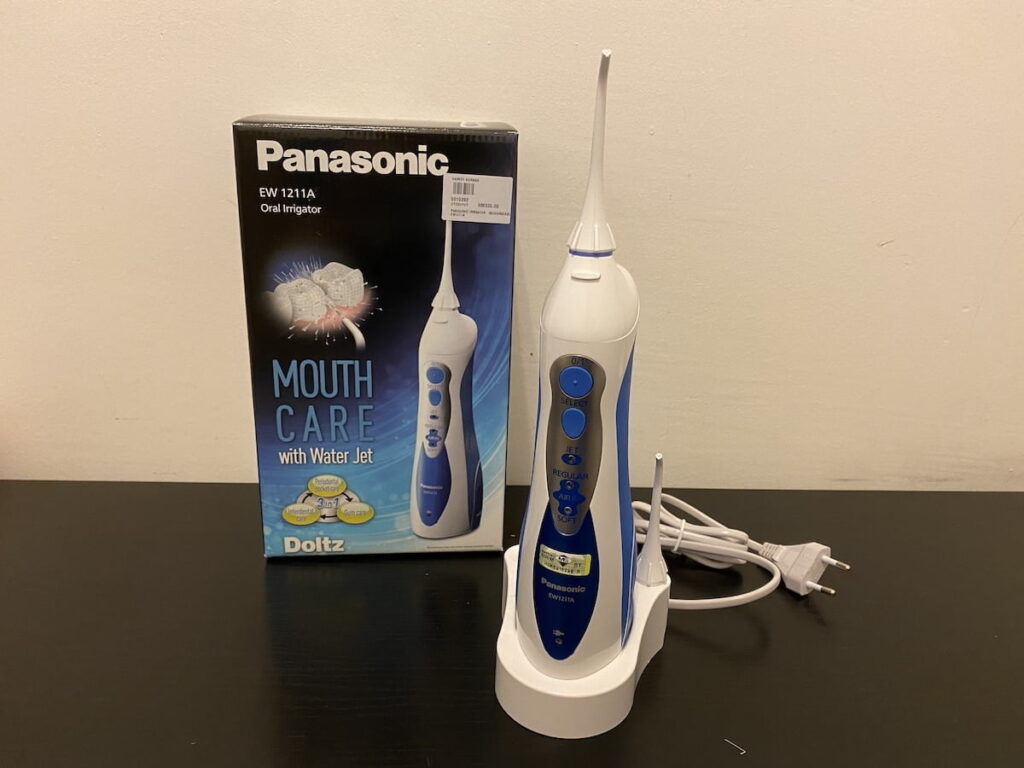 About Panasonic Oral Irrigator
I have been using an oral irrigator for a while. Started with the expensive Waterpik. It was good and comes with many nozzles. But over the years, the battery could no longer hold its charge. Moreover, the model that I was using is no longer in production.
I briefly change to the Xiaomi Soocas. It was much cheaper but did not last long. In less than one year, two units became faulty and would no longer switch on.
After doing some research, I decided to purchase the Panasonic Oral Irrigator. I got a good deal from Harvey Norman at RM279 and with a top up of RM55, I got additional four years warranty.
Specifications
The Panasonic Oral Irrigator is cordless, which is a huge convenience and gives users freedom to move around. The unit can hold a charge for a couple of weeks of use.
The design is bulky but ergonomically friendly to hold and compact with its own water reservoir. It has three pressure modes that can be adjusted to user's needs.
Benefits
Here are some benefits of the Panasonic Oral Irrigator
Special cleaning effect created by mixing air and water giving users the option of a gentler mode. Ideal for users with sensitive gums and people suffering from periodontitis.
Teeth and gum are gently massage when using the air-water mixture.
The water jet reaches places that normal toothbrush cannot. It helps remove food debris and bacteria trapped between teeth and gum pockets.
Water reservoir is easy to clean. It can be removed and rinsed with warm water to keep it clean.
Pressure Power
There are three pressure settings on the Panasonic Oral Irrigator. It can go up to 590 kPa with 1400 pulses per minute. The gentle setting mixes air and water for jet streams that massage the gums. The normal setting has firm pressure to remove plaque and food particles.
The highest setting is strong but not intense for users with sensitive gums. It's good for removing stubborn plaque and trapped food debris.
The oral irrigator can be shared by different people, but it is highly recommended to use a different nozzle for each person.
Noise Levels
This water floss makes a motor humming sound when switched on. The noise is like the other water flossers that I have used.
Tips
The Panasonic Oral Irrigator comes with two nozzles. The tips are angled and pointed to spray a single jet stream of water. It provides a targeted clean between teeth and hard to reach places to remove plaque. The nozzle needs to be cleaned regularly to prevent limescale and keep it performing well.
Each nozzle has a different ring color to help identify the user. The charging port has a holder for two nozzles which is ideal for those sharing with a partner or to keep as a spare.
Cordless
Panasonic's instructions are to charge 15 hours for the first time, so that the battery can last its full life expectancy. A full charge can last up to two weeks as I use it up to three times a day. The only downside to this oral irrigator is there is no indicator when the battery is full. I usually charge overnight to ensure the battery is full.
The charging station is a non-contact system, like Oral-B charging for their electric toothbrushes. Other water flosses require a plug-in charging which has a chance of water getting into it.
Conclusion
It's clear that Panasonic Oral Irrigator has many features that can rival some of the more expensive water flossers. The oral irrigator is effective in removing trapped food particles and prevent plaque from building up. Check the latest price of Panasonic Oral Irrigator on Lazada.