Club Med is the first and the world leader in all-inclusive holidays. So, what is an all-inclusive holiday? It's a holiday where the basics for a holiday is already included in the price that you have paid – accommodation, full board meals, free flow drinks, sports & leisure activities, child care, nightly entertainment, WIFI, travel insurance and more.
About Club Med Cherating
Club Med Cherating is the largest Club Med resort in the world and the first in Asia. The resort opened in 1979 is in the jungle and built on stilts in the Malay kampung house style. Monkeys and lizards are commonly seen around the resort.
Club Med Terminologies
Club Med has a few terminologies used in the resort. Here are a few to get your started:
GMs or Gentle Members are guest of the resort (i.e. You!).
GOs or Gentle Organizers are Club Med staff of different nationalities that help run the resort. They will join you during lunch or dinner and perform the nightly entertainment.
GEs or Gentle Employees are Club Med local staff. They help with housekeeping, kitchens, and reception.
CDV or Chief de Village is the General Manager of the resort.
Crazy Sign is a signature Club Med dance that is done at the pool side, on the dance floor or after the theatre show.
Accommodation
Club Med Cherating offers 3 types of accommodation – Superior Garden View, Superior Sea View and Suites. Both Superior room types are similar in size just the view is different. The Sea View rooms are located nearer to the main area. Connecting rooms are available but Club Med charges an extra fee to book these rooms.
The suites have a large balcony with deck chairs to catch some sun. Suite benefits include room service continental breakfast and mini bar that is replenished daily with non-alcoholic drinks.
Full Board Meals
Club Med has three restaurants – Mutiara, Rembulan and Enak. You can eat as much as you want as all 3 restaurants are already included in the price that you have paid.
Mutiara Restaurant – Open for breakfast, lunch and dinner serving International Buffet style with live cooking stations. Choice of Chinese, Malay, Korean, Japanese, and Western islands.
Rembulan Specialty Restaurant – Open for late lunch serving ala carte main meals and appetizers buffet style. Dinner is served ala carte with option to upgrade your meals at extra cost.
Enak Noodle Bar – Open for late lunch and late dinner when Mutiara Restaurant is closed. Choose from a choice of noodles as well as soup base.
Snacks – Light meals like sandwiches, fruits, cakes, samosas are available in the main bar area when Mutiara is closed.
One unique feature about Club Med is the GOs will join you for lunch or dinner. I have many interesting chats with GOs and many have become my friends till today.
Covid-19 Update – Pre-plated, individually portioned dishes and staff service will replace buffet to reduce contact.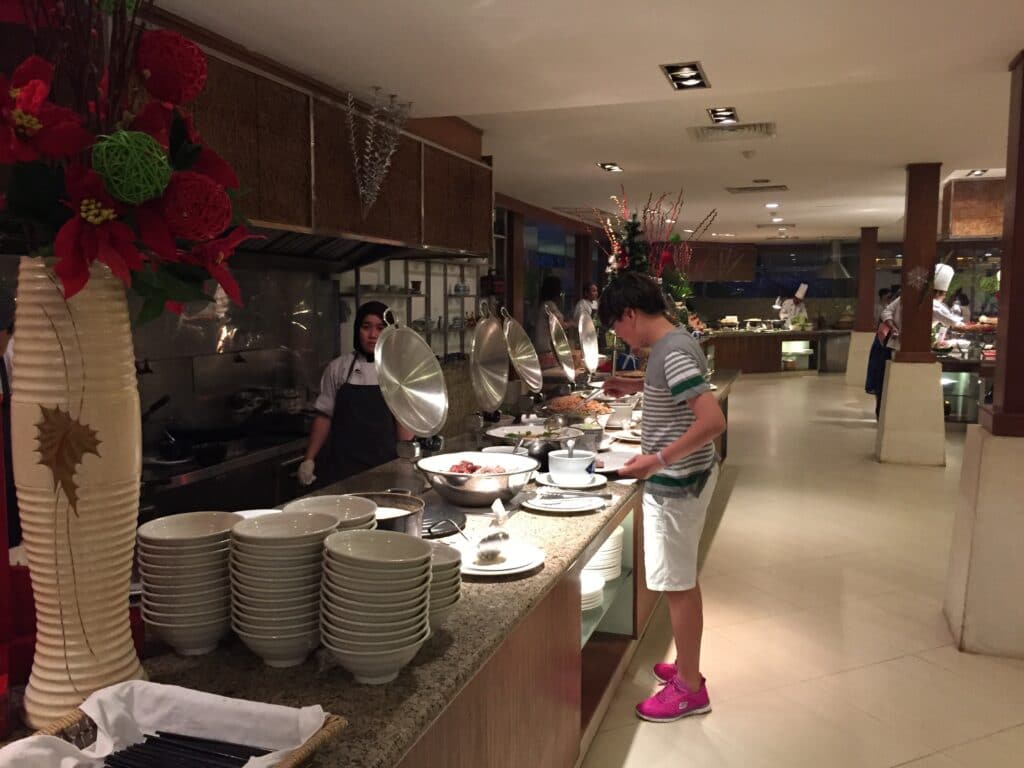 Free Flow Drinks
Club Med Cherating has 3 bars – The Orchid, Bayou and the Zen Bar. You can drink as much as you want. Unlimited drinks are included in the price that you have paid.
The Orchid is the main bar located just outside of Mutiara Restaurant. The choice of drinks is more extensive choose from coffees, teas, beers, wines, alcohol, cocktails, mocktails and juices. There is also option to purchase premium drinks such as champagne and wines.
The Bayou is the beach bar located near the beach activities. Choice of drinks are slightly limited at this bar.
Zen Bar is the bar located at the Zen Pool. Choice of drinks are limited.
Sports & Leisure Activities
Club Med is the largest sports school in the world with more than 60 sporting activities in all Club Med resorts and Club Med 2 sailboat. Club Med Cherating offers activities such as rock climbing, jungle walk, aqua fitness, flying trapeze with circus activities, tennis, badminton, squash, archery, futsal and table tennis are in the main resort area, while water sports like kayak, sailing, standup paddle, beach volleyball are located at the Pantai area. Group beginner lessons are included for selected activities.
For those who prefer a quiet space, head to the Quiet Pool or also known as the Zen Pool located at the Pantai area.
Note: The Tree Top Adventure is currently closed for maintenance until further notice.
Child Care
Childcare for children 4 to 17 years is included. Just leave your kids with the friendly Club Med GOs and they will look after them from morning till evening. There is even a pajama club from 7pm to 11pm when GOs will babysit your children while you relive your younger days with a late dinner or dancing.
Baby Club Med (4-23 Months) – Extra cost
Petit Club Med (2-3 Years) – Extra cost
Mini Club Med (4-11 Years) – Included
Password (12-17 Years) – Included
Ensure that your children bring the proper attire – swim suits, sports attire, and shoes to participate in the childcare activities. Parents bringing their babies to the Baby & Petit Club Med will be required to show their immunization records.
Club Med takes exceptional care for the little ones. A Baby Welcome package includes a baby cot and a bathtub in the room, while the Baby Corner located beside the Mutiara Restaurant includes sterilizer, blender, bottle warmer, microwave, mineral water, and small jars of baby food.
Nightly Entertainment
Club Med has a dress code every evening, ranging from all white to neon colors. The theme can be found in the Club Med app as well as announcements made every evening before the theatre show and the next morning, the theme will also be displayed at the boutique. It is not compulsory to follow the theme but since majority of people are dressing up, why not join in?
The nightly entertainment is performed by the GOs in the resort. Theatre shows from musicals, comedies to acrobatic are performed nightly. After the show, there will the Club Med signature dance, the crazy sign followed by dancing or live entertainment at the main bar area. After 12pm, the party will continue to Night Club until 1 or 2am. Just follow the GOs to the location of the night club.
Come As A Stranger, Leave As Friends
Through the many years that I have been to Club Med, I will always end up making a couple of new friends on every visit. The Club Med GOs are the heart and soul of the resort. They make all the difference in your holiday and we stay connected with each other until today.
How to get to Club Med Cherating?
By Car
From Kuala Lumpur, Club Med Cherating is less than 3 hours by road. The drive is quite easy except for the stretch near Genting Sempah which is a little steep.
By Flight
The nearest airport is Kuantan. Daily flights are available from Kuala Lumpur with Malaysia Airlines & AirAsia. 4 weekly flights from Penang with Firefly and 3 weekly flights from Singapore with Scoot. From Kuantan airport, it is approx 1 hour by road to Club Med Cherating.
Is It Worth Going To Club Med Cherating?
Club Med Cherating has been around for a long time and many parts of the resort needs renovation. An earlier plan to close the resort from February 2020 for extensive renovation has been put on hold. I would say go the the mindset to relax, enjoy the friendship that you will make with the GOs and enjoy nature. The rooms are comfortable for a good night sleep but if you are looking for luxury, this is currently not the place to be.
Club Med Cherating Tips
Here are some helpful tips for Club Med Cherating
• Open air parking inside the Club Med grounds is available for self-drive guest.
• Check the information board outside the theatre for the latest updates on activities.
• Don't carry food stuff or leave your belongings like phones or iPads on the deck chairs. The monkeys will take them.
• Request for your favorite drink from the Bar Team. Drinks are not limited to the drink's menu.
• Head over to the Zen Pool for a relaxing morning.
• Check-in is after 3pm. Early check-in subject to early arrival fee.
• Check out is 11am. You need to vacate the room by 11am but can remain in the resort until after lunch. Lunch is provided on the last day of your stay.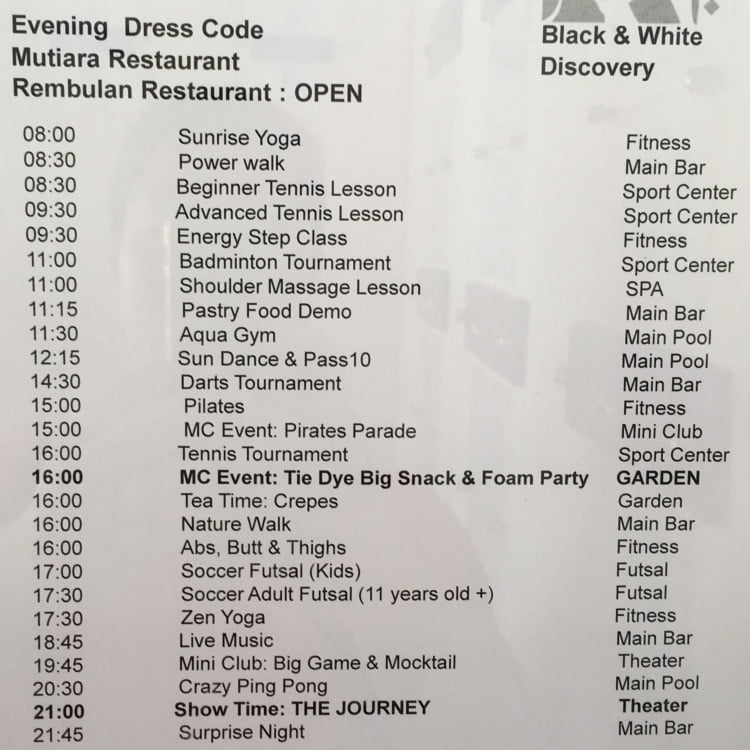 How to book Club Med Cherating?
If you intend to book Club Med, contact me through WhatsApp and I will get everything arranged for you.